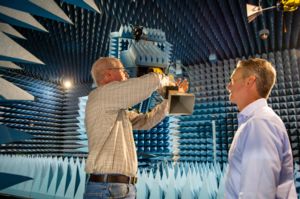 Tentative

Technical Tour
Registrants of the April 11-12 AMTA/IEEE event are eligible to attend a technical tour of the newly opened Dual Robotic Antenna Measurement System (DRAMS) at Boeing Seattle. The tour is open to April 11-12 event registrants ONLY and tour registration paperwork must be submitted no later than Saturday, April 1, 2023. Tour attendees will see Boeing's "Antenna Lab of the Future" that enables dramatically faster, more accurate antenna testing results. You can learn more about the DRAMS chamber here.
The technical tour will take place at the conclusion of the workshop on Wednesday morning, April 12.
The tour is tentative at this point and will be held based upon sufficient interest.