AMTA Student Travel Scholarship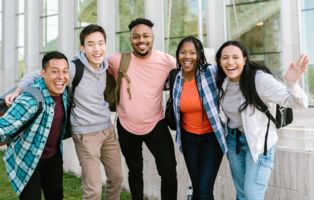 The scholarship is designed to encourage students interested in electromagnetics with an emphasis on antennas. It is open world-wide to undergraduate juniors and seniors as well as Masters and first year PhD students.
---
Students must show a demonstrated interest in electromagnetics and/or antennas and be able to attend the upcoming symposium. Award winners will receive travel funding up to $2,000 USD to attend the symposium as well as many other benefits. In order to apply, students must submit:
1) An essay about his/her interest in AMTA, antennas, radar, or/and electromagnetic related field, giving background and plans for the future
2) A resume which includes course listings with grades received
3) A letter of recommendation from an AMTA Senior Member or Fellow who is not a sitting Board Member or a member of the scholarship selection committee
For current deadlines, please go to the meeting page under the Events tab.
Want to donate to the scholarship fund? Please click here to complete the online donation form. AMTA is a 501(c)(3) organization recognized by the IRS, and therefore contributions made are eligible for a tax deduction. If you would like a letter of acknowledgement, please email info@amta.org. Thank you for your contribution to the AMTA scholarship fund!
Questions? Contact the Scholarship Chairman at scholarship@amta.org
Member News

Meet your AMTA 2023 Board of Directors

---

We're please to announce the AMTA 2022 Best Paper Winners

---

We are sad to share the news of the passing of Dr. Jesper Hansen. Please click here for his remembrance.

---

If you don't recall your login credentials or AMTA number - PLEASE DO NOT CREATE A NEW PROFILE AS THIS CAUSES SEVERAL ISSUES.

Forgot your password: Click the Reset Password link and a reset link will be sent to your email. For security purposes, AMTA staff cannot view passwords.
Don't remember your username? Please email info@amta.org and provide your name and contact information. We'll respond with your username within one business day. For most, your email will be your user ID.
Has your email changed? Please email info@amta.org with your name and new email. We'll update your existing record and respond within one business day.

If your membership has lapsed, you may renew your membership here.

---

! Have you opted into the AMTA listserv? GDPR and CASL anti-spam legislation requires that an individual opt into marketing messages. To make sure you're included on all AMTA communications, log in and go to Profile < Settings < Email Settings < Confirm the setting is set to Yes.

AMTA News

The AMTA Board of Directors would like to welcome the newest AMTA Node - the Australian Node!

Event News

RECORDING NOW AVAILABLE: Fourth AMTA Webinar on Single-Cut Phaseless Near-Field Measurements (May 25, 2023 | 11:00 AM- Noon Eastern Time)

---

Thank You to All Who Contributed to the Success of the AMTA 2023 Regional Event! [Read the wrap-up email]

---

The AMTA 2023 Website is now LIVE! Click HERE to watch the promotional video and learn about next year exciting Symposium in Seattle.

---

Beware Event & Hotel Phishing Schemes - CLICK HERE