Welcome Exhibitors!
You are invited to exhibit at the 2015 Annual Meeting and Symposium of the Antenna Measurement Techniques Association (AMTA) in Long Beach, California. The symposium is being held at the Hyatt Regency Long Beach.
Benefits of Exhibiting at AMTA 2015
Access to some 500 decision makers for antenna measurement products and services from aerospace, defense, academia and commercial industries.
The majority of space on the third (ground level) floor at the Hyatt Regency Long Beach hotel is reserved for the symposium with nearly 22,000 sq ft available, over half of which is devoted to exhibitors.
Bullpen and private exhibit rooms all located directly near the technical program presentation room.
Extended break and lunch periods allow plenty of time for attendees to visit the exhibits.
Strategically placed refreshment breaks bring attendees into the exhibit areas multiple times each day. The popular Monday Exhibitors Luncheon brings the attendees directly to your exhibit, choose your savory enticement well.
Go where your customers are! Approximately 90% of exhibiting companies return year after year to the AMTA Symposium due to the high quality sales leads and unique networking opportunities with attendees and industry gurus. View the exhibitor list for AMTA 2014 to see the companies represented at last year's Symposium.
Increase your exposure! Consider one of the many sponsorship opportunities available from events to registration bag giveaways. Get recognition for the sponsored item plus additional recognition in publications and presentations. There is something for every budget!
Reserve your booth space soon ! click here to download your Exhibitor Space Application Packet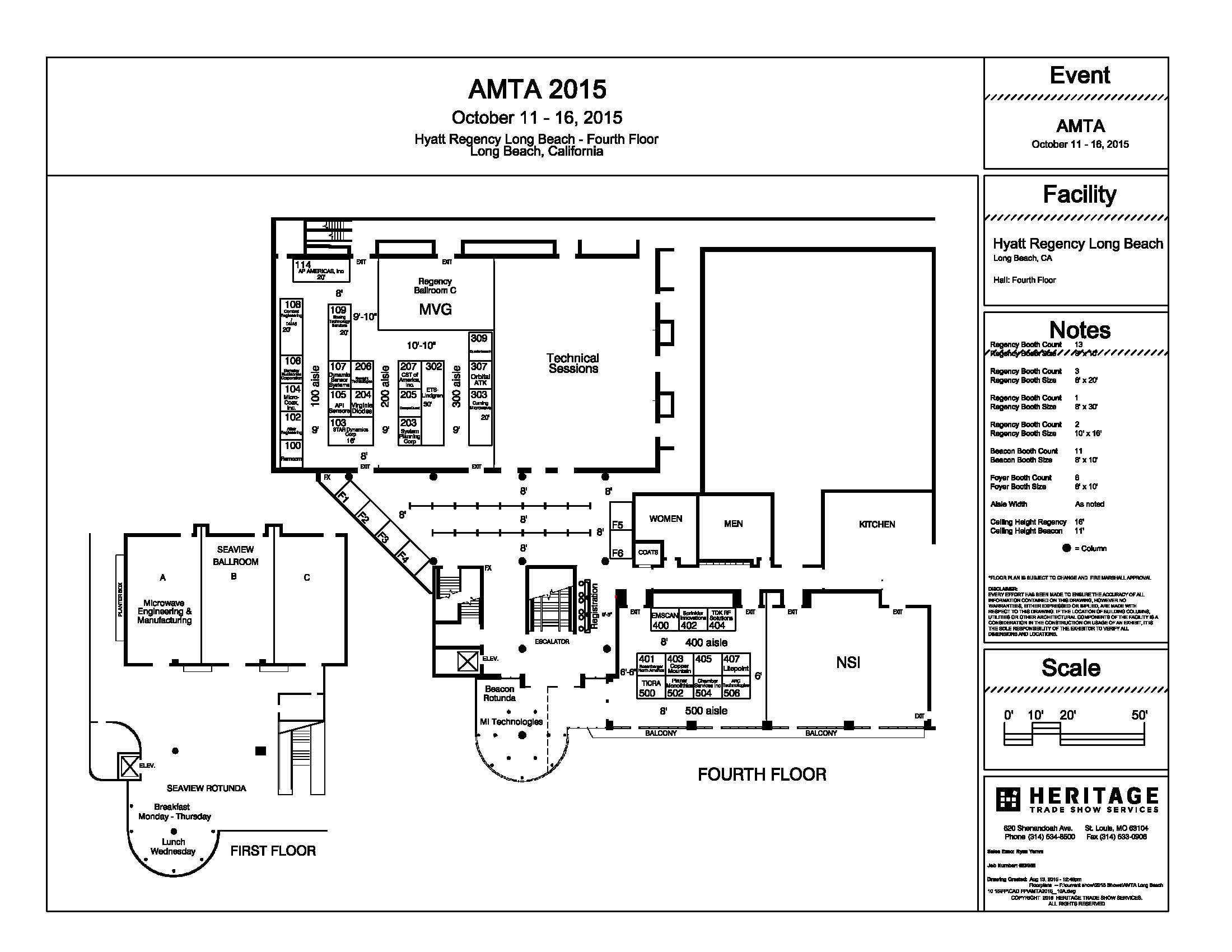 AMTA 2015 Exhibitors
Supporting Publications
Exhibitors Point Tally
| | |
| --- | --- |
| MVG | 600 |
| MI Technologies | 583.56 |
| ETS-Lindgren | 441.84 |
| NSI | 437.17 |
| STAR Dynamics Corp | 352 |
| System Planning Corp | 315 |
| CompuQuest | 260 |
| Cuming Microwave | 248 |
| Keysight Technologies | 235 |
| TICRA | 210 |
| Altair Engineering | 184.15 |
| Boeing Technology Services | 170 |
| CST of America, Inc | 145 |
| Orbital ATK | 132 |
| Microwave Engineering & Mfg Corp | 126.15 |
| TDK RF Solutions | 110.29 |
| Chamber Services Inc | 105 |
| Micro-Coax, Inc | 105 |
| QuarterBranch Technologies, Inc | 95 |
| Comtest Engineering /DMAS | 61 |
| Remcom | 55 |
| AP AMERICAS, Inc | 45 |
| Rosenberger North America | 35 |
| Berkeley Nucleonics Corporation | 15 |
To Learn More
Contact: Yvonne Grosek of Three Dimensions – AMTA 2015 Conference Management.
Phone: , E-Mail: ygrosek@threedimensions.com