Give the Gift of Knowledge: Support Our Student Travel Scholarship Fund
As we approach the season of giving, we want to take a moment to express our gratitude for your unwavering support and dedication to advancing the field of antenna and RCS measurement techniques and technology advances. Your participation and involvement have made our association a thriving hub of knowledge and innovation.
On Tuesday, November 28th, we're excited to hold a special campaign for #GivingTuesday, a global day dedicated to charitable giving. We invite you to join us in making a significant impact on the future of our field by supporting our Student Travel Scholarship Fund.
One of the most rewarding aspects of our association is the opportunity to inspire the next generation of scholars and researchers. Each year, numerous students with a deep passion for electromagnetics and antennas aspire to attend our Fall Symposium, where they can learn from experts, engage with peers, and present their research.
This is where you come in. We're seeking your generous support to help us send deserving students to the AMTA Annual Conference. Your donation will go directly towards covering the student's travel expenses, making their educational journey more accessible.
How Your Contribution Can Make a Difference:
Empower Aspiring Scholars: Your donation will enable a passionate student to access invaluable learning opportunities, fostering their growth as future leaders in our field.
Strengthen Our Community: Investing in our students today ensures a vibrant and robust community of experts and innovators for years to come.
Multiply Knowledge: By supporting a student's attendance, you contribute to the dissemination of groundbreaking research and discoveries in antenna and RCS measurement techniques and technology advances.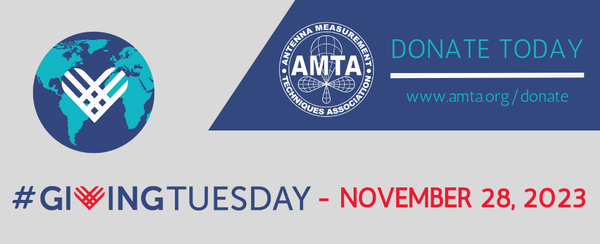 Here's how you can make a difference:
Donate Online: Click here to access our donation form, or simply make a donation when renewing your dues. Every dollar counts. !Remember, AMTA is a 501(c)(3) organization, and your donation is tax-deductible for those residing in the U.S.
Double the Impact: Some employers offer matching gift programs. Check if your company is one of them.
Spread the Word: Share our campaign with your colleagues, friends, and family who may be interested in supporting the next generation of talent in our field.
As we approach #GivingTuesday, we encourage you to reflect on the profound impact your support can have on a young scholar's life. Let's join together and provide them with the opportunity to flourish.
Thank you for considering our cause and for being an integral part of our association. Together, we can make a significant difference and help shape the future of antenna and RCS measurement techniques and technology advances.
Wishing you a wonderful #GivingTuesday and a joyous holiday season ahead.
Lars Foged
2023 AMTA President