---
Title: Single-Cut Phaseless Near-Field Measurements
Speaker: Fernando Rodríguez Varel, PhD | Universidad Rey Juan Carlos | Madrid, Spain
Webinar Date: May 25, 2023 | 11:00 AM-12:00 PM (noon) Eastern Time

Requires Membership Login to View
Abstract
Single-cut techniques allow for fast antenna characterization by measuring and transforming to far-field individual pattern cuts instead of the full sphere. The cut fields are expanded in a reduced set of cylindrical coefficients, which can be used to accurately compute the far-field in the main pattern cuts for antennas with separable aperture distributions. This presentation introduces several fast single-cut near-field to far-field transformation methods using amplitude-only data. This technique becomes a fast tool for antenna characterization when one is interested in a few cardinal plane cuts of the antenna and only magnitude measurements are available.
Speaker Bio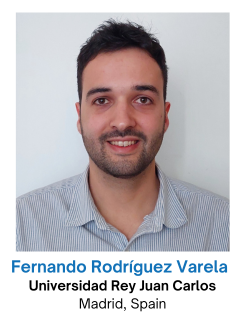 Fernando Rodríguez Varela is an Assistant Professor at Universidad Rey Juan Carlos of Madrid, in Spain. He obtained the PhD degree of Telecommunication Engineer from the Technical University of Madrid in 2021. Previously he has worked as an Assistant Professor at the Open University of Madrid and as a Development Engineer at Huber+Suhner AG. He was also a visiting scholar at the Technical University of Denmark. His research focuses on antenna design and measurement, where he is co-author of 10 papers in indexed journals and more than 20 communications in national and international conferences. In 2022 he was awarded the "Colegio Oficial de Ingenieros de Telecomunicación" Prize for the Best Doctoral Thesis.
---
About AMTA Webinar Series:
The AMTA webinar series was introduced to highlight latest antenna measurement technologies to the AMTA community. Speakers are selected from the best papers presented at the AMTA conferences.
Members - You can watch the recording of the previous webinars at: