AMTA 2023 Regional Event –
Antenna Technical Program Attracts Attention!
The eagerly anticipated AMTA 2023 Regional Event held on April 11-12 exceeded expectations. Organized by the Antenna Measurement Techniques Association (AMTA) and the Institute of Electrical and Electronics Engineers (IEEE) Seattle Electromagnetic Compatibility (EMC) Chapter, the event was held at the beautiful Hyatt Regency Lake Washington at Seattle's Southport. This year's theme "Antennas on the Move – in Rockets, Planes and Satellites" attracted over 70 attendees to hear the latest research and developments in antenna test and measurement.
Popular Speaker Professor Yahya Rahmat-Samii of the University of California Los Angeles (UCLA) started the full-day technical program with an extended four-hour presentation "The Art, Science and Engineering of Modern Antenna Measurements and Diagnostics: From Marconi's First Measurements to Today's Amazing Advances." Several invited international speakers followed on fascinating topics, including:
Measurements and Modeling of 5G FR2 (> 24 GHz) Systems: Challenges, Observations, and Explanations Even Management Can Understand by John Ladbury, National Institute of Standards and Technology (NIST), Boulder, Colorado
Antenna Simulation and the Dynamic Mission: A Case Study in Airborne Radar Altimeter and 5G Coexistence by Jason Bommer, Ansys, Seattle, Washington
Dynamic Channel Emulation for Spacecraft Test and Integration by David G. Michelson, University of British Columbia, Vancouver, BC, Canada
Antenna Placement on Complex Platforms – Getting the Most from Measurements and Simulations by Lars Foged, MVG, Italy
Analyzing Ground-Based Electronically Steerable Arrays (ESA) Used for Communications with Non-Geo Stationary (NGSO) Satellites by David R. Novotny, Nicholas Christensen, Shanay Kothari, and Leszek Langiewicz, Space Exploration Technologies Corporation (SpaceX), Hawthorne, California
The following exhibitors supported the event with tabletop displays show casing products and services for wireless, EMC, as well as antenna test and measurement applications.
Absolute EMC Llc.
Advanced Test Equipment Corp.
Anritsu
Ansys Inc
AR RF/Microwave Instrumentation
ETS-Lindgren
Fair-Rite Products
HV TECHNOLOGIES, Inc.
In Compliance Magazine
Junkosha
MVG
Next Phase Measurements
Orbel Corporation
PSI Solutions Inc.
Rohde & Schwarz
SixArms
Syntek - Pendulum
Testforce
All activity on Tuesday, April 11, was held in the Lake Washington Ballroom at the Hyatt – including presentations, meal service, and exhibition – to encourage networking between the speakers, exhibitors, and attendees. "We've held successful IEEE Seattle EMC Chapter events in this ballroom in the past," said Dennis Lewis with Boeing, Chair of the AMTA 2023 Regional Event. "We were excited to share this unique set up with the AMTA community this year. In addition, it was a great opportunity to promote the AMTA 2023 Annual Meeting and Symposium that will be held at the Hyatt Regency Lake Washington from October 8 to 13. We hope all the attendees and exhibitors will return and join us for the AMTA Symposium this fall. And remember, 250-350 word abstracts for possible presentation at the AMTA 2023 Symposium are due May 1," he added.
The program for April 11 concluded with a reception featuring a Happy Hour open bar and appetizers sponsored by Advanced Test Equipment Corporation and Next Phase Measurements. Speakers, attendees, and exhibitors appreciated the chance to informally share knowledge and discuss common interests. A raffle drawing for gift card prizes donated by AMTA and In Compliance Magazine provided a thrilling end to the day's program.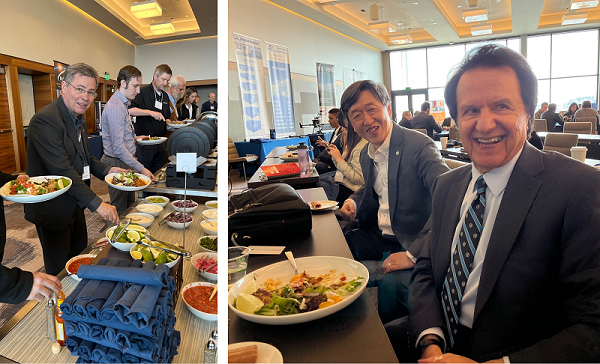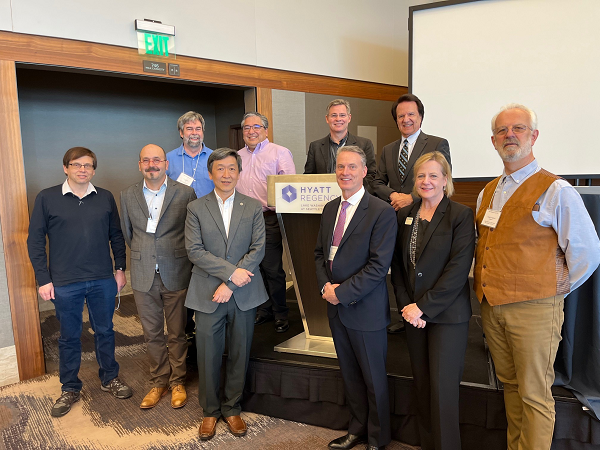 On Wednesday, April 12, attendees took part in two exciting activities that continued the technical program from the previous day.
First, Lars Foged with MVG, Zhong Chen with ETS-Lindgren, and Dennis Lewis with Boeing provided an update on IEEE Standards 1720, 149, and 1309 as well as the ANSI C63.25 Standard Series. Mr. Chen then presented "Test Site Measurements using Orthogonal Time and Mode Domain Transformation." His presentation was followed by a LIVE demonstration with the assistance of Yibo Wang of ETS-Lindgren. Next, Mr. Lewis presented "Reverberation Chamber Stirring Techniques and Antenna Effects." This presentation was also followed by a LIVE demonstration with the assistance of Wayne Cooper of Boeing and John Ladbury of NIST. The demonstrations complemented the lectures in providing real-time examples of the measurement techniques shown in the presentations. Many thanks to Advanced Test Equipment Corp, Rohde & Schwarz, and V Technical Textiles for loaning the instrumentation and reverberation chamber used during the demonstrations.

Second, following the workshop, several attendees traveled to Boeing for a technical tour of their Dual Robotic Antenna Measurement System (DRAMS) test chamber. Tour attendees saw Boeing's "Antenna Lab of the Future" that enables dramatically faster, more accurate antenna testing results. If you missed the tour, you can learn more about the DRAMS chamber here. The tour also included a bonus visit to Boeing's EMC Lab. April 12 started with a continental breakfast at 8:00 am and concluded with the technical tour ending at 3:00 pm. Many attendees lingered past 3:00 pm to visit with the Boeing engineers for an extended Q&A session. Thank you to Boeing for providing an impressive technical tour!